The 7th Day Traced in Lost Pages of History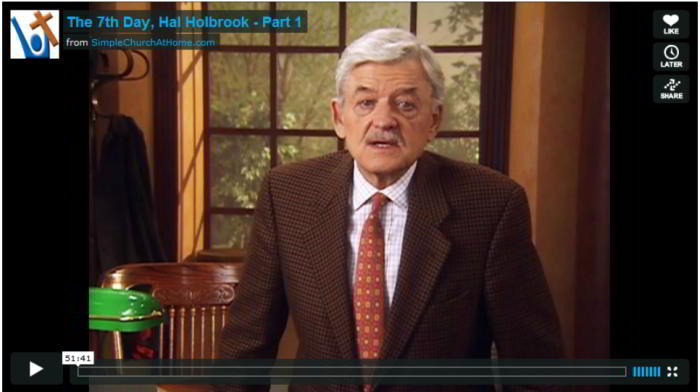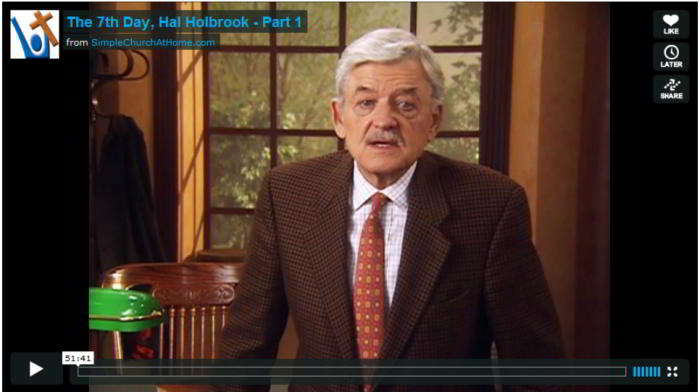 We highly recommend this series of five videos, The Seventh Day: Revelations from the Lost Pages of History, by Frank Holbrook, now available on the web. (Click on the image.) Each video is just over 50 minutes long, just as in the original video series still available at TheSeventhDay website. Please visit the site for extra resources, including an overview of each video, a History Timeline and complete transcripts of each episode.
There's a reason for "the lost pages of history" in the title. This is history as you've not likely read or heard it before in school or through the media. However, Hal Holbrook takes viewers back across the centuries to trace the history of the Sabbath through the evidence of ancient records as found in the archives and libraries throughout the world.
Fifty historians and theologians from around the world provide a careful exposé of the epic battle over the biblical Sabbath. We see how faithful Christians throughout the long centuries of the inquisition and other repression engaged in a heroic struggle for religious liberty. You will be guided through the evidence from the cool green hills of St. Patrick's Ireland to the steaming South American jungle, from the massacre of a thousand Jews in the Palestinian desert to the bloody Taiping Revolution in 19th-century China, and from the divisive heresies of the early Christian era to the fiery executions of "heretics" in Red Square.
"I will die today because I have observed the seventh day of the week as the holy Sabbath of God." So wrote Ivan Kuritsin before he was burned to death in the Red Square of Moscow more than 500 years ago. The Council accused him of honoring the seventh day, the Sabbath, more than the first day, Sunday.
Is it possible that this same seventh-day (Saturday) Sabbath for which so many faithful Christians gave their lives now coincides with Sunday in the South Pacific island nations of Tonga, Wallis, Futuna, Kiribati, Samoa and Tokelau? Where is the sign of distinction (Ezekiel 20:20) for those who claim that the seventh day now conveniently falls on Sunday so that that they can worship on the same day as their neighbors who celebrate the resurrection on the first day of the week?
The ages-long controversy over the biblical day of worship—the Sabbath of the Ten Commandments—continues today in some of the most unlikely places, such as the South Pacific islands. Will the controversy gain more prominence in the rest of the world as well? Time will tell.
---
We welcome your comments after you have watched one or more of the videos. You can also watch the series at SabbathTruth.com in MP4 format. Let us know which works best for you. (Tell us where you are and how you are accessing the videos.)